At Liberty Fencing Club, we make champions by helping athletes reach their goals through preparation, hard work, and perseverance. The programs at Liberty Fencing Club are designed to provide introductory, recreational, intermediate, advanced, and elite training for one of the most fascinating, exciting, and safest sports. We are delighted when we see our students and alumni succeed. We have students as young as 6, through middle school, high school, and college students, adults and seniors.  LFC has fencers with a variety of commitment levels, including international and national competitors, college athletes, regional and local competitors, and purely recreational fencers in it for the fun exercise for the mind and body.  All fencers have different goals; Liberty Fencing Club customizes your training to give you the best opportunity to reach your goals and ambitions. Come visit our main location in Warrington, Bucks County, Pennsylvania.
LFC Fencing Tournament Schedule
All tournaments at Liberty Fencing Club are registered with AskFred. If you need instructions on how to use AskFred, please click here.
Upcoming Tournaments & Seminars at Liberty Fencing Club:
We offer both recreational and competitive programs for: 
Youths (8 and up)
Adults
Seniors
Benefits of Fencing
Fencing encourages the development of…
Leadership
Confidence
Responsibility
Safety awareness
Intellectual development
Self-esteem
Fitness, conditioning, and coordination
Fence in college and afterwards!
There are many benefits to participating in fencing. Fencers learn good sportsmanship and self-discipline. They learn to compete independently as well as for a team; they learn to enjoy winning and profit from defeats, while becoming physically fit and healthy; most importantly, they learn to make complex decisions, analyze problems, and think fast. These ideals help children reach their potential in many areas other than fencing.
---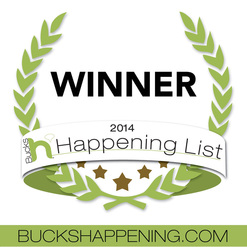 Thank you to everyone who voted Liberty Fencing Club onto the Bucks Happening List for 2014. We took 1st place in the highly competitive Best Kids Camp category!
---
For more information about this year's camps:
Liberty Fencing Club 2015 Summer Camp with Laurie Schiller from Northwestern University & the Swarthmore College Fencing Team coaching staff
USA Olympian IVAN LEE SABRE CAMP