The Rothman Institute Selects Liberty Fencing Club as its Partner for the Sport of Fencing
Liberty Fencing Club is proud to partner with The Rothman Institute.  This world-renowned sports medicine provider is the "Official Orthopaedic Partner of Liberty Fencing Club."  The Rothman Institute selects the premier sports organization in the region for each sport: for baseball, it's the Phillies; for football, it's the Eagles; for basketball, it's the 76ers; for hockey, it's the Flyers; for fencing, it's Liberty Fencing Club.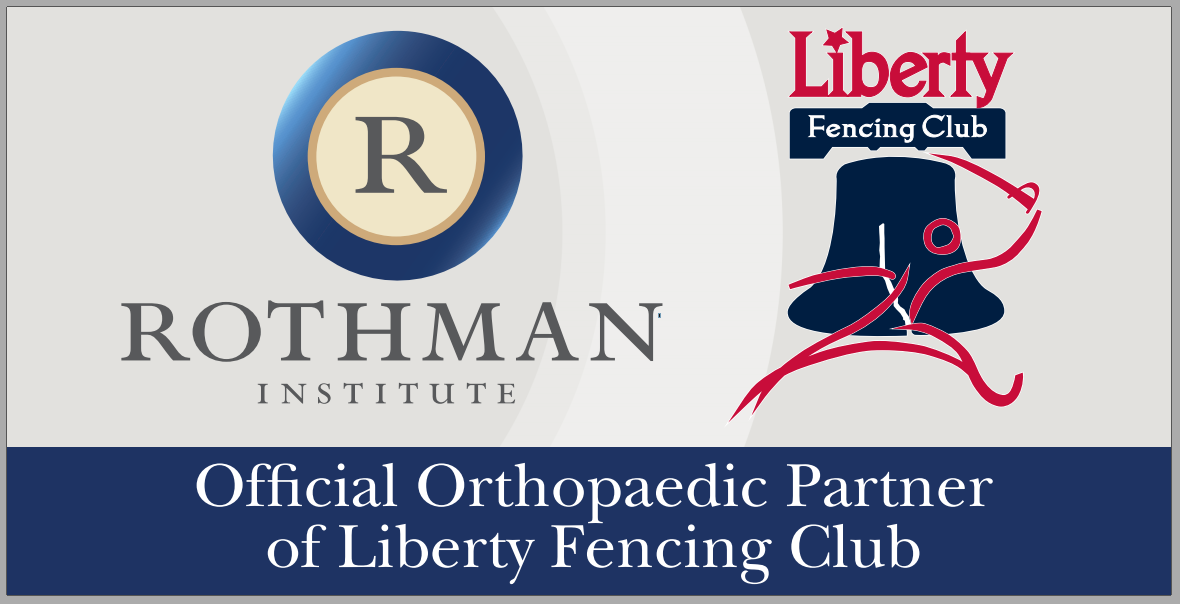 From the Philadelphia Business Journal and also featured on SEPTA's electronic news displays throughout southeastern Pennsylvania:
http://www.bizjournals.com/philadelphia/blog/health-care/2015/06/rothman-institute-takes-a-stab-at-another-sports.html
The Rothman Institute has added another sports organization to its partnership portfolio.

Already serving as the official team physicians for the Philadelphia Eagles, Phillies, Flyers and 76ers, the Rothman Institute's latest deal calls for the Center City-based orthopedic practice to provide sports medicine care to members of the Liberty Fencing Club.

Marshal Davis, a coach at Liberty Fencing Club, said Rothman doctors will be providing education and sports training to club members in areas including injury prevention, treatment, and recovery.

The Liberty Fencing Club, which has about 100 members, operates out of two locations. Its primary location is a private 5,900-square-foot facility in Warrington, Pa. The club also provides lessons by appointment at Haverford College in Haverford, Pa.

The club offers fencing lessons and programs to athletes of all ages. Students include beginners, intermediate and advanced fencers, and elite fencers with U.S. National points and international fencing experience. The club also holds camps, clinics, open bouting and tournaments.

The Rothman Institute, founded in 1970, treat patients at 20 locations in the Philadelphia-region, including its specialty hospital in Bensalem, Pa., and orthopedic urgent care clinics in Marlton, N.J. and Limerick, Pa.

Rothman doctors, in addition to serving as team physicians for the city's four professional sports teams, also serve in the same capacity for several college and high school teams.

Financial terms of the agreement were not disclosed.

John George covers health care, biotech/pharmaceuticals and sports business.
Liberty Fencing Club's partnership with The Rothman Institute brings its world-class orthopaedic and sports medicine resources to Liberty Fencing Club's athletes and families with VIP access to their official team physicians and surgeons.  Not only will Liberty members and their families have VIP access to doctors at the top of their field, but Rothman is also providing Liberty with exclusive seminars, information, and state of the art updates on injury prevention, performance enhancement, training, education, injury treatment, and athletic recovery.
---
Please Contact Liberty Fencing Club if you are interested in the lifelong sport of fencing.  No experience necessary.
Main Location Street Address:
Liberty Fencing Club LLC
366 Easton Road
Warrington, PA 18976
U.S.A.
Telephone: 267.482.9597
Email: info@LibertyFencingClub.com
LFC's main location is in the heart of central Bucks County, Pennsylvania on Easton Road (Route 611), between Street Road and County Line Road. We are across the street from Lowe's and Target.
Mailing Address:
Liberty Fencing Club LLC
P.O. Box 364
Jamison, PA 18929-0364
U.S.A.
---