Homeschool Fencing Comes to Central Bucks County!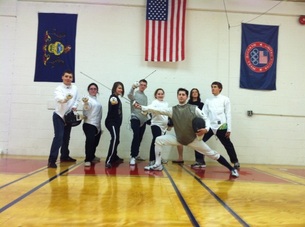 Liberty Fencing Club's Home School Program is designed for novice, intermediate, and competitive fencers in sabre, epee, and foil. No experience necessary! The program includes fitness instruction, games, skill training, tactics/strategy, competitive bouts, and more. Our experienced fencing coaches are from Swarthmore College and have coached on the national or international level. All classes are held in our outstanding heated and air conditioned and newly-expanded facility with a new state-of-the-art sprung floor with 11 permanent fencing strips and an Olympic style FIE-spec grounded strip (the only one in a several hour radius at a private club). Equipment provided. Liberty FC is a member of USA Fencing. Our training has already been approved for PE credit by two prestigious private schools. There are NCAA and club fencing teams at many colleges, and even fencing scholarship opportunities. With a number of current college coaches on our staff, including coaches with national collegiate fencing leadership roles and numerous contacts, we also assist our students in the college recruiting process if that is a path they wish to pursue.
We offer free trial classes. We have flexible times, dates, curricula, terms, and pricing for our Home School Program. All Liberty Fencing Club Coaches are Professional Members of USA Fencing and therefore must undergo background checks.

Liberty Fencing Club was voted "Best of Bucks-Mont" in 2012 in two categories: Best Children's Entertainment and Best Martial Arts Studio.
Liberty Fencing Club Home School Program in Warrington, PA Brochure Download