We are so excited to announce our decision to move Liberty Fencing Club's main location in central Bucks County, Pennsylvania. While have great memories at our previous space, we think everyone will be happy at our new location and with the convenience and amenities it offers. We are moving 5 minutes up the road on Route 611, to the Warrington Pavilion Shopping Center, 1111 Easton Road, Suite #20, Warrington, PA 18976.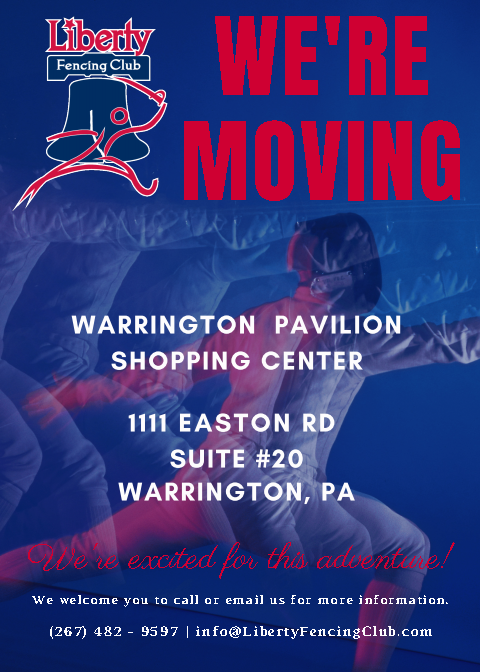 Our new space is in a convenient retail shopping center, with plenty of parking and walkable food options. The new space has plenty of natural light and a large vestibule for our spectators. We look forward to growing into the new space and getting set up and running soon.
We have been working to set up the new space in advance as much as we can. We will update you soon about the opening of our new space and ask for your patience as we move in and set up. We want to start classes and lessons as soon as possible, but that may mean that we will have to bear with some set up and cosmetic improvements in progress even after we start classes and lessons in the new facility.
We are excited that Coach Marshal will also be returning soon from his extended paternity leave and daddy duties with 3 young kids at home in the pandemic. He has been hard at work for LFC behind the scenes for the past year, and in the search for a better and more efficient location.
We want to thank Coach Kyle for his continued excellence and creativity throughout this difficult year, and for all that he has in store for LFC in the coming weeks, months, and years.
We're also happy to share that our active coaches are all fully vaccinated. As a coaching team, Coach Marshal and Coach Kyle plan to offer more classes for our fencers, and we hope our other coaches will return as they become fully vaccinated.
We're continuing to do our part to make sure our students and their families feel comfortable in our club. We will continue to practice social distancing and sanitizing of our space and equipment. All CDC and PA guidelines will continue to be followed, including the mask requirement and other precautions. As a reminder, all occupants must refrain from eating or drinking in the club (with the exception of water) for the safety of our fencers and staff. All trash and personal belongings must be placed in the appropriate receptacles and/or taken home at the end of each class or lesson.
We're welcoming any questions and feedback via email or by calling us at 267-482-9597.
THANK YOU for your continued support and cooperation as we navigate these trying times and work tirelessly to improve the experience for our fencers and their families.
We can't wait for this new chapter in the rich history of our club!
Best regards,
The Liberty Fencing Club Team
Liberty Fencing Club LLC | (267) 482-9597
https://www.LibertyFencingClub.com
https://www.facebook.com/LibertyFencingClub
https://www.twitter.com/LibertyFencing
MAILING ADDRESS: P.O. Box 364; Jamison, PA 18929-0364
BUCKS COUNTY (MAIN) LOCATION: Warrington Pavilion Shopping Center; 1111 Easton Road, Suite #20; Warrington, PA 18976
At Liberty Fencing Club, we make champions by helping athletes reach their goals through preparation, hard work, and perseverance. The programs at Liberty Fencing Club are designed to provide introductory, recreational, intermediate, advanced, and elite training for one of the most fascinating, exciting, and safest sports. We are delighted when we see our students and alumni succeed. We have students as young as 6, through middle school, high school, and college students, adults and seniors.  LFC has fencers with a variety of commitment levels, including international and national competitors, college athletes, regional and local competitors, and purely recreational fencers in it for the fun exercise for the mind and body.  All fencers have different goals; Liberty Fencing Club customizes your training to give you the best opportunity to reach your goals and ambitions. Come visit our main location in Warrington, Bucks County, Pennsylvania.
Fence in college and afterwards!
There are many benefits to participating in fencing. Fencers learn good sportsmanship and self-discipline. They learn to compete independently as well as for a team; they learn to enjoy winning and profit from defeats, while becoming physically fit and healthy; most importantly, they learn to make complex decisions, analyze problems, and think fast. These ideals help children reach their potential in many areas other than fencing.