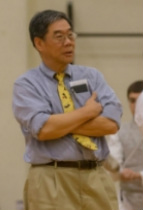 Hosted by TED LI
Chef du Controle for Olympic Games in Los Angeles, Atlanta, and Sydney AU (1984, 1996, & 2000).
Head Varsity Coach at The Pingry School, Martinsville NJ (1975-Present).
Head Armorer for numerous World Championships, Junior World Championships, Pan-Am Games, World University Games, World Masters Games, The Titan Games, USOC Sports Festivals, USFA National Championships, FIE World Cups, NCAA National and Regional Championships, NACs, USFA Sectional Championships, NJISSA Championships, collegiate and high school tournaments.
Team Armorer for USFA World Championship, Junior World Championship, Cadet World Championships, Pan-Am, World University Games teams.
Consultant and designer of fencing salles, including Yale University, Princeton University, The Penn State University, University of Pennsylvania, University of Notre Dame, Riverdale Country School, Newark Academy, and Medeo.
Staff Writer for American Fencing magazine.
When: Sunday, September 21, 2014
ARMORY SEMINAR / CLINIC from 10:30 AM to 3:30 PM
Where: Liberty Fencing Club
Newly Expanded Bucks County Location
366 Easton Road
Warrington, PA 18976
www.LibertyFencingClub.com
(267) 482-9597
LibertyFencingClub@gmail.com
Who:
All fencers, parents, coaches, referees, tournament officials, volunteers, and armorers are welcome.
Cost: $50.00
Lunch, drinks, and snacks will be available for purchase
CLINIC OUTLINE:
Terminology and Theory
Tools and Testing Equipment
Mask Testing and Maintenance
Personal Equipment
Foil and Sabre Maintenance and Tournament Preparation
Foils
Sabres
Lame Materials
Body Cords
Foil Rewiring and Assembly
Epee Maintenance and Tournament Preparation
Epees
Body Cords
Epee Rewiring and Assembly
Tournament Equipment Troubleshooting and Repair
Reels
Floor Cables